Queensland fruit fly reached Victoria as a result of warm winters in 2011 and 2012 and gradually spread southward into the Yarra Valley. It arrived in Banyule 2 seasons ago. Queensland fruit fly if left unchecked will destroy our ability to produce fresh fruit and vegetables.
Sustainable Macleod is doing everything in its power to stop the spread. Please join us, whether you are a Sustainable Macleod member or not, in learning about Queensland fruit fly, taking active measures to combat it, and spreading the word.
This dedicated web page includes information and strategies to combat Queensland Fruit fly, data collection that will help us track the spread and success of our strategy in Banyule, videos, dates of seminars, and a shop with items that you will need at wholesale prices. All our seminars and workshops are free.
To be kept up to date:
• subscribe to our newsletter below
• join our Facebook group
Use the links below to register information about where your traps are placed, when you trap Queensland Fruit Fly and what fruit you have to destroy as a result of infestation.
Buy a Queensland Fruit Fly trap and attractant
We are now selling Queensland Fruit Fly traps at wholesale prices in our online shop for collection at the Sustainable Macleod Community Garden.
Queensland Fruit Fly workshop
Watch our video of the Zoom Workshop with Angelo Eliades on controlling Queensland Fruit Fly, including a Q&A session. Angelo discusses the impact of QFF, methods of control and where you can get more information.
You can visit Angelo's website at deepgreenpermaculture.com
Queensland Fruit Fly blog posts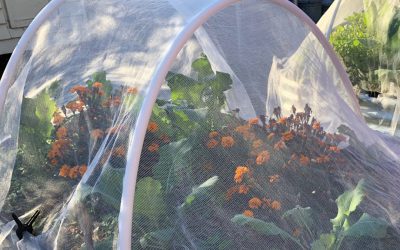 We are repeating this article written in November 2021 because, now more than ever before, it is urgent to net to protect fruit and vegetables from Queensland Fruit Fly. Without the right kind of net, properly secured at ground level, you can expect your harvest to be...
read more