5 pretty purple local plants in Banyule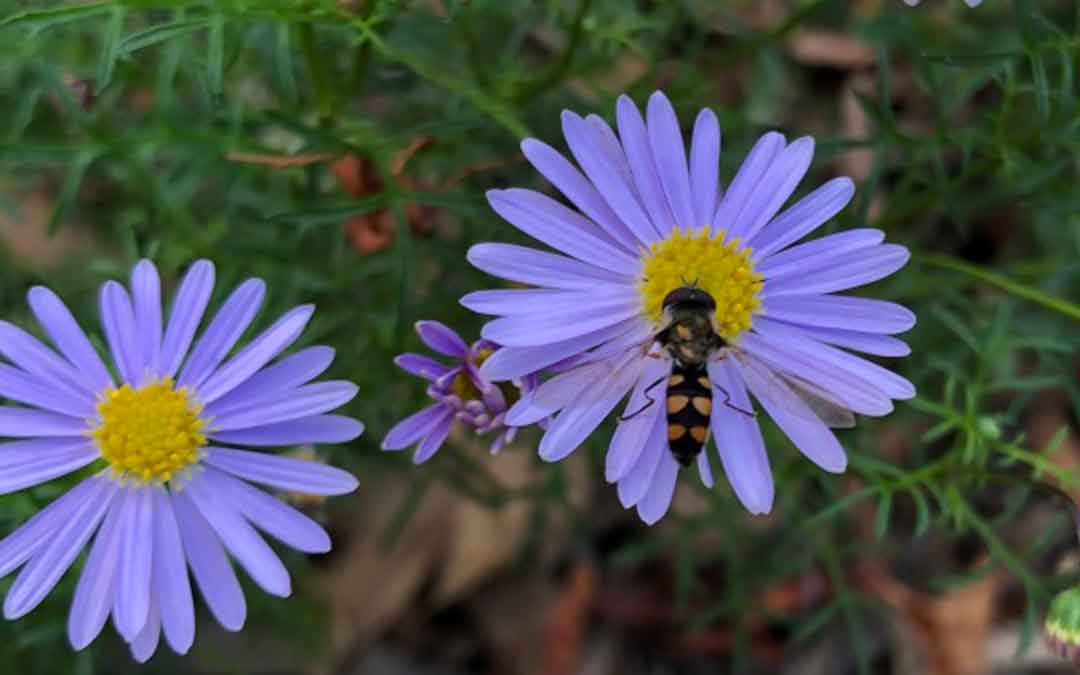 Nature abhors bare earth. Where there's bare earth, mother nature finds something to fill it. In spring, that'll likely be weeds. Why not instead fill some small spots in your garden with something that's pretty and local to the area? They'll require very little (if any!) ongoing care and because they are adapted to local conditions, they can grow in unimproved clay and rocky soils, without fertiliser or watering. All are pollinator and/or wildlife-attracting, bringing both beauty, biodiversity and bigger harvests for those growing productive gardens.
Now is the time to plant
Winter is a great time for transplanting bare root fruit trees, but it's also an excellent time for planting local indigenous species. It gives them a chance to establish their roots before the heat arrives. If you'd like to plant indigenous species, you really should do it between autumn and mid-spring at the latest.
Why 'tubestock' is best
Planting indigenous species as tubestock is generally a better idea than planting more established plants in larger pots. It's a lot easier for them to establish their roots in the ground and get what they need when they are still young, rather than being confined in pots for a long time and then having to try and adapt to new conditions once planted. The exception is plants such as native orchids and lilies that grow from tubers – bigger pots generally mean you get more tubers. Buying plants in tubes also means that buying indigenous plants is extremely cheap, as most are only a few dollars each. It's far cheaper than buying native plants at big box gardening stores. All these species can be grown and can thrive in pots also if that's all you've got space for.
Caring for these species
Avoid fertilising these plants as it encourages weed growth and indigenous (and most native) plants don't need it. Water sparsely in their first summer if it's really hot and it looks like they really need it. Don't water in future as it is not needed. They thrive in native bushland without intervention.
Other benefits of using indigenous species
Using indigenous plants encourages wildlife and/or beneficial insects into your garden. You may be surprised at what you see, even in very suburban gardens. There's no reason that you can't mix indigenous plants with non-indigenous ones. All the species listed below are perennial, meaning they will last for years to come, unlike many other introduced flowers which require you to buy and plant new annuals every year. None are really invasive, so unlike things such as borage and calendula, you won't be getting all the 'volunteer'/self-seeded plants each season. This might be a drawback for some people, but will be a real benefit to others. Some species may require pruning to keep in the shape or space you want them to stay.
All can be purchased through La Trobe Indigenous Nursery, VINC or Edendale Indigenous Nursery.
Here are 5 small pretty plants with purple flowers that are locally indigenous to our area. You can expect flowers within a year of planting.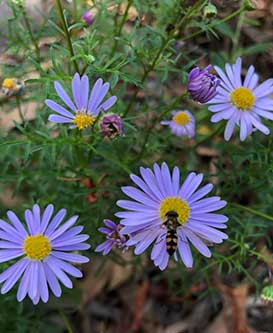 Cut Leaf Daisy (Brachyscome multifida)
Like all daisies, this Brachyscome is a pollinator magnet – attracting native bees, hover flies, butterflies and more. Often sold commercially as 'Break of Day', this is a very pretty and hardy addition to any garden. Grows naturally in dry, shallow or rocky soils, so can be planted in terrible soils and beneath trees such as eucalypts. Has fine foliage and often forms dense clumps. Provides a food source for small native fauna, and great cover for small reptiles like skinks and beneficial insects. Flowers best in full sun, but can tolerate part shade. Flowers for about 9 months of the year, with the best displays of flowers in spring and early summer.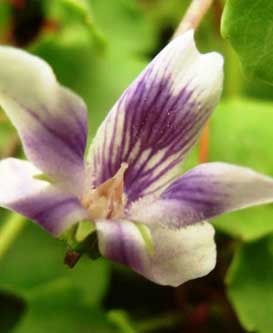 Native violet (Viola hederacae)
With lovely small white and mauve flowers this is the native version (and local to much of Australia) of the English or sweet violet which was introduced. In my opinion, I think it's prettier also. Will grow to 5-15 cm tall. It is a great substitute for a lawn in shady areas – can even be mowed (on a high or medium blade setting). Will grow in full shade and flowers for most of the year. Beware: like its introduced cousins, they can spread quite easily. Will need an occasional trim to keep it out of unwanted areas if planted on mass.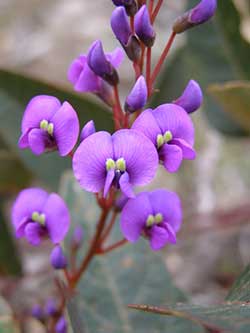 Purple Coral Pea (Hardenbergia violacea)
Commonly sold in commercial nurseries as 'Happy Wanderer', Hardebergia violacea is local to our area. It's very hardy, doesn't need much water at all (no need to water it) and puts on big showy displays of purple pea flowers through late winter and spring. Will climb if given the opportunity, otherwise will run along the ground. Looks great scrambling up a retaining wall. Can grow 2 or more metres tall/long if given the opportunity, but responds well to pruning, so can easily be controlled. Flowers better in sunny positions, and is a very useful option to cover bare earth or screen a fence.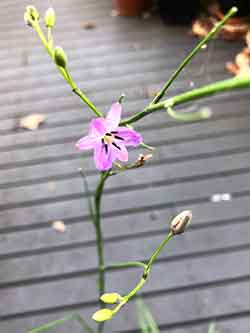 Chocolate Lily (Arthropodium strictum)
A gorgeous purple flowering lily named for its delightful vanilla-chocolate scent. Features soft thin weeping green leaves from the ground. In spring and early summer it will flower on branching stems up to 1 metre tall. Likes full sun or part shade. Dies down to a tuber over late summer and autumn, but resprouts the following year in the cooler weather. Looks great planted in drifts.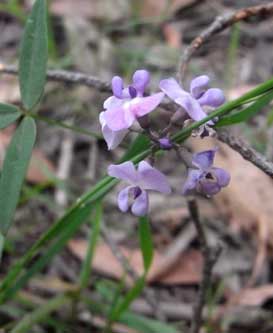 Twining Glycine (Glycine clandestina)
A less well known but equally gorgeous indigenous plant. Another from the Fabeacae (pea) family, this twining small creeper features dainty purple pea flowers from late winter into summer. Very attractive plant that grows well in dappled shade. May grow up to 2 metres tall/long, but can be lightly pruned. Attracts insects including native bees, wasps and butterflies.
Written by Jen Willis.
Images from both Cathy Willis and Jen Willis.