A rare flash of copper wings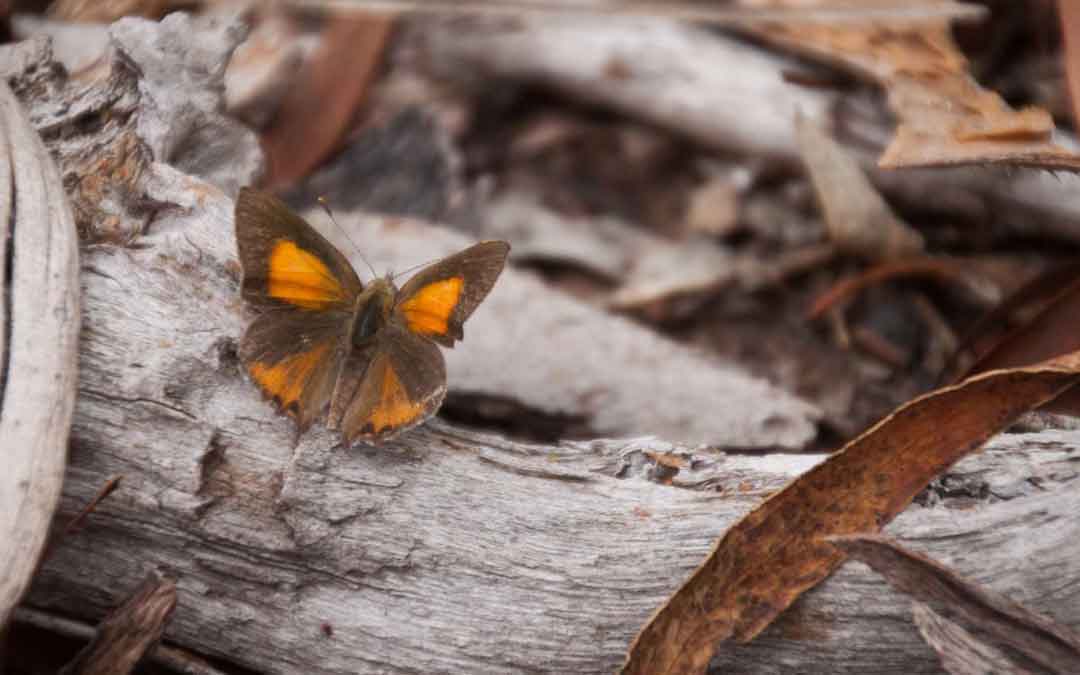 A rare flash of copper wings
The Eltham Copper Butterfly (Paralucia pyrodiscus lucida) is an endangered species that occurs only in Victoria. It is only known in four areas in the state, one being Eltham, Montmorency and Greensborough.
The small and pretty adult Eltham Copper Butterflies lay their eggs on the roots and trunks of the Sweet Bursaria shrub (Bursaria spinosa). Once the butterfly eggs hatch, the caterpillars are protected by a local species of ants.
The Notoncus ants lead the caterpillars to and from the ant colony allowing the caterpillars to feed on the Sweet Bursaria leaves. In return, the ants feed on sugary secretions that the caterpillars create.
The Eltham Copper Butterfly is entirely dependent on both the Sweet Bursaria and the Notoncus ant colonies for its survival. If we lose the Sweet Bursaria shrubs, we'll lose the Eltham Copper Butterfly and probably the ants also. These relationships show how delicate, intertwined and fragile ecosystems can be.
Nillumbik Shire Council has lots of information about the Eltham Copper Butterfly on their website. They have a 'Butterflies of Nillumbik' brochure and an 'Eltham Copper Butterfly lookalikes' poster. They have some written history about this previously-thought-extinct species and some of the local conservation efforts, as well as the names of the bushland reserves in their shire where there are known populations.
There is a remaining population of the butterflies at Andrew Yandell Reserve in Greensborough (Banyule City Council). Now is a great time to get out and see them for yourself. Pick a sunny day, and take yourself there or to one of the reserves listed on the Nillumbik page. This video from Banyule on the Andrew Yandell Reserve webpage provides lots of information about what the Sweet Bursaria plants look like (so you can hopefully find them), the way the annual caterpillar count is conducted and how you can help protect this special species.
For more in-depth information about the Eltham Copper Butterfly, you can watch a recording of the free webinar Nillumbik Shire Council ran a couple of years ago. It features John Harris, the Principal Zoologist at the ecological consulting firm that runs the annual caterpillar survey for Nillumbik and Parks Victoria.
I've been 3 times deliberately intending to try and see Eltham Copper Butterflies, and have been delighted to see many of them each time. Unfortunately, my phone photography skills were rather lacking (as you can see below), so I've included the photo above from Banyule City Council's website instead. If you're keen: try taking a little bit of time out from end-of-year busyness and go butterfly spotting, I don't think you'll regret it.
Written by Jen Willis.