BANSIC Christmas Appeal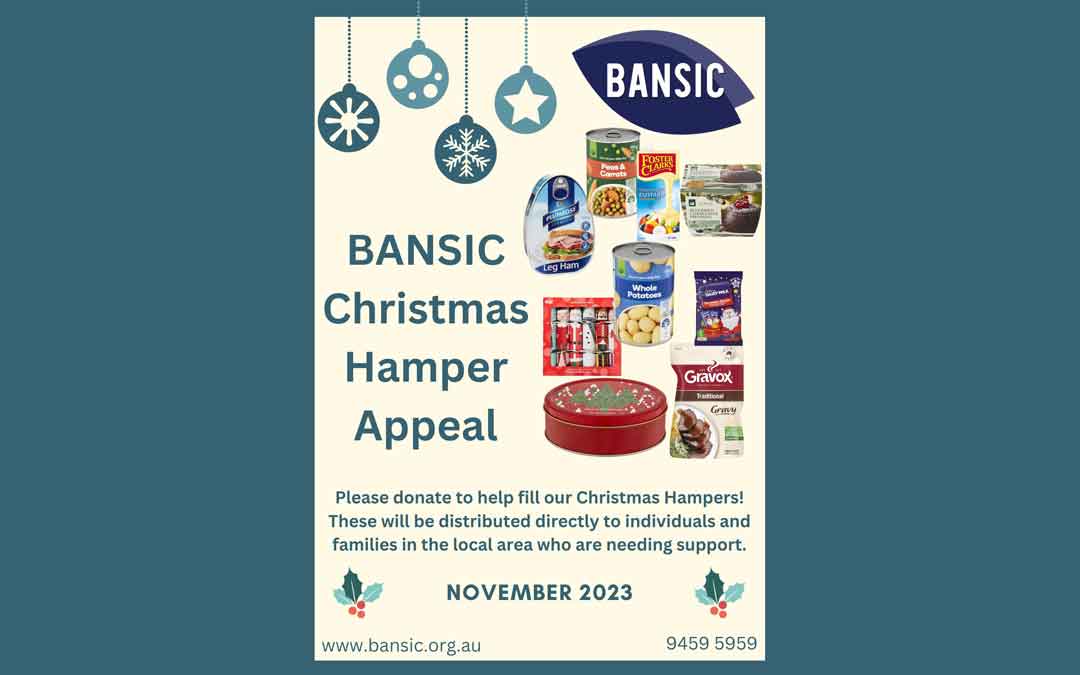 Can you help with donations of cash, food, toys, toiletries?
I've been sitting in the front of my computer feeling teary as I read the recent BANSIC Donor Update. Life is, sadly, so challenging for many people in the Banyule community that BANSIC has gone from giving out 500 food parcels prior to Covid per month to 1200 currently, with that number increasing monthly. No one in our community should ever go hungry in a community as prosperous as ours.
BANSIC's volunteers do a phenomenal job in distributing food parcels to people in need and as Christmas approaches, and with Government funding declining, the need for local community support has never been more urgent. A $100 donation allows BANSIC to provide $950 worth of relief – that's tremendous value. Read on to discover how BANSIC does that.
BANSIC purchases heavily discounted food from other food organisations such as Foodbank, Second Bite, Fair Share and CareNet; receives donated food from individuals and organisations (such as Sustainable Macleod); and Rosanna CWA and Melbourne Polytech add more value by turning some food into frozen meals.
For every $10 of food purchased, BANSIC provides food parcels worth over $95. So, for every $100 donated, (all donations over $2 are tax deductible), donors are giving the equivalent of $950.
I am proud that Sustainable Macleod has donated about 500kg of food this year – some from the Community Garden and some from families who produce a surplus, and quietly drop it off for Sustainable Macleod volunteers to take to BANSIC. In 2024 I hope that we can formalise this as our contribution to the Banyule Urban Food Strategy and involve as many families as possible in food equity for everyone.
Please consider making a donation to BANSIC this month (or next). Even the smallest donation has a big impact on BANSIC's clients. Remember $10 means $95 of value; $100 means $950 of value!
Written by Robin Gale-Baker