No tea bags or coffee pods in the green bin!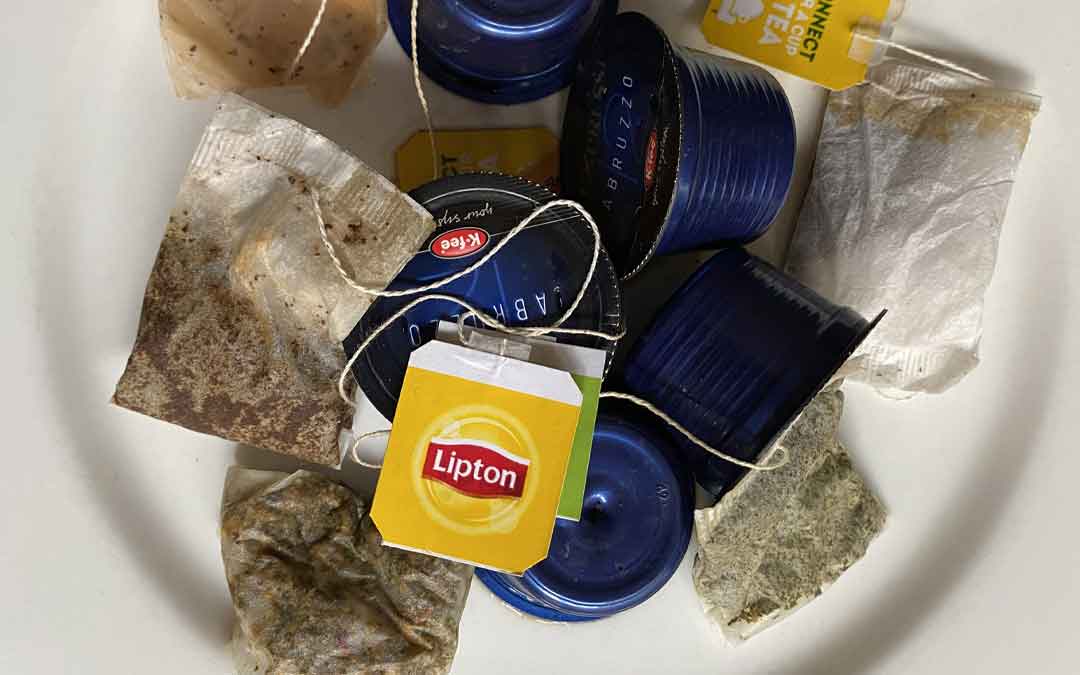 We have now covered 3 items in the last 2 newsletters that don't go in the FOGO* green bin in Banyule, Darebin and Manningham Councils. These are:
stickers on fruit and vegetables
bin liners including compostable ones
food packaging.
This month it is tea bags and coffee pods under the microscope!
Both tea bags and coffee pods contain plastic or aluminium. What stops tea bags from falling apart is the microplastics incorporated into the fabric. They also contain polypropylene which is used to seal the bags, sometimes staples, and labels all of which are not compostable.
You may be surprised to know that you are ingesting microplastics each time you use a tea bag. There are a couple of brands on the market that are plastic-free – a British product called PG Tips, available sometimes at Leo's in Heidelberg and the Twinings Pyramid range (but no other teabags in the Twinings range). Even organic teabags generally contain polypropylene as the sealing agent. Loose tea in a pot might be a preferred way of 'taking tea' should you be worried about this.
Microplastics are the reason that Sustainable Macleod recommends not including tea bags in your home compost, and similarly, Banyule City Council does not want them in their FOGO bins. It goes without saying that coffee pods are not biodegradable. Contaminants in a single bin can ruin an entire load of compostable material, forcing it to be diverted to landfill. If there are sufficient contaminants, Council gets fined – which impacts our rates.
The good news is that you can empty the contents of tea bags and coffee pods into the green bin and then dispose of the bags and pods in the red waste bin. Just remember that even a tiny amount of contaminant in your bin can contribute to a whole truckload ending up in landfill.
*FOGO stands for Food Organics, Garden Organics. FOGO keeps food out of landfill and converts it into compost on an industrial scale.
Written by Robin Gale-Baker