Profile: Robin Gale-Baker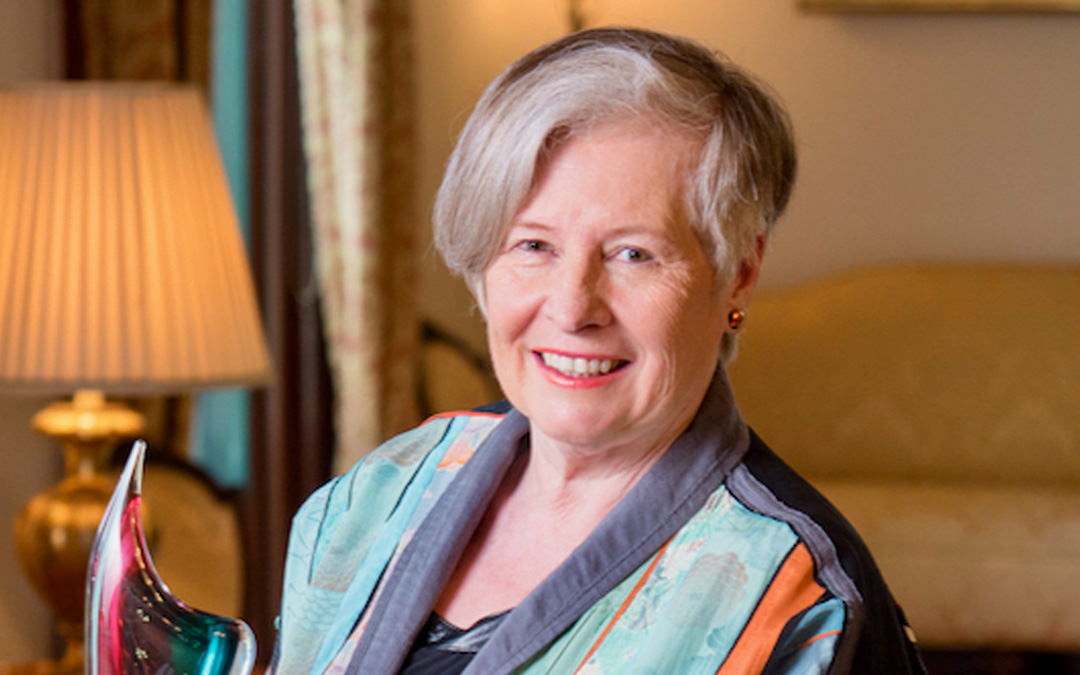 Sustainable Macleod members would know Robin Gale-Baker from the monthly Newsletter, her videos produced for Sustainable Macleod and her guidance and mentoring at Macleod Organic Community Garden.
Others would recognise her for the wide range of sustainable projects, such as the Macleod Vegie Swap, Sustainable Macleod's monthly meeting of local gardeners she founded 10 years ago. Many would know her from the annual seedling distribution, the bulk of which she propagated herself while teaching others along the way, drawing on her experience of starting and operating the first commercial Tasmanian herb and cottage plant nursery. Many would also know her from the way she engages people in Sustainable Macleod projects.
Robin was the initiator of many of the early projects, especially those funded by grants, where her previous experience in grant writing and her meticulous attention to detail ensured success in receiving funds to initiate projects. In the first few years, Robin tackled virtually every task in Sustainable Macleod, but as membership grew she mentored people into various roles, continuing to be the 'backstop' and filling in when necessary.
Robin's award as the 2016 Banyule Local Hero was an opportunity to explain to the audience her conviction that community-based sustainable groups needed to operate as part of the local economy and support local enterprise, thus ensuring the viability of local shopping precincts, such as Macleod Village. This led her to become a representative of the Macleod Traders Association for the past 5 years. She also ensured that the traders received a yearly gift of tomato seedlings and ongoing support through social media. Robin's initiative – The Green Auction, which ran for 3 years and raised $11,000 plus plants sales of around $3000 – was a way to raise funds and foster the relationship with the shops.
Further funds were raised for Sustainable Macleod, as well as supporting local produce, by sales of olive oil, social events, such as Westgarth film nights and Heidelberg Theatre Company productions, a trivia night and at least 3 seedling sales per year in Macleod Park.
Robin has also led several local campaigns to support sustainability in Banyule. Most prominent of these was the successful campaign to ensure Banyule City Council maintained the environmental grants pool at the original $100,000, rather than dropping it to the proposed $10,000. She also spear-headed more local action, such as the opposition to the placing of parking meters in the vicinity of the Macleod shops and local streets, which would have discouraged people from shopping locally. The petition she organised gained an impressive 1402 signatures.
Robin's interest in helping build a strong local community saw her attempt to foster a commitment, by the membership of Sustainable Macleod, to the Transition movement. The lack of success in doing this is one of her few regrets. At the same time, however, the Transition to a Safe Climate Conference, which she organised in partnership with Transition Banyule, was a huge success and led to the formation of a number of groups, including Banyule Clean Energy Group, of which she is Vice President. Through BCEG she was instrumental in obtaining funding for a commercial solar installation at IDV and continues to foster clean energy initiatives.
In 2018 Robin was awarded the Victorian Senior of the Year Award (Healthy and Active Living) for her work in building community within Macleod. This award recognised not only the obvious work she has done that most people see, it also acknowledged her tireless work behind the scenes: answering an endless stream of emails and phone calls on everything from organisational issues to garden queries, her constant lobbying of local, state and federal politicians, her constant monitoring of projects and garden issues and her dealing quietly with sensitive issues which arise among members in community organisations.
In the current pandemic, Robin's contact with BANSIC, meant that produce from the community garden could be donated to needy families and gave purpose to the handful of members maintaining the garden. Many members would also have received phone calls from her during the pandemic, enquiring about their welfare.
From the beginning Robin has championed her causes: building a safe, connected and spirited community, and building a sustainable vision for Macleod.
Robin has stepped down from the committee of Sustainable Macleod and from her role as garden supervisor at Macleod Organic Community Garden. She remains on the communication team, writing for and approving the monthly newsletter and producing Queensland Fruit Fly blogs.
Written by Paul Gale-Baker