QFF success at the community garden!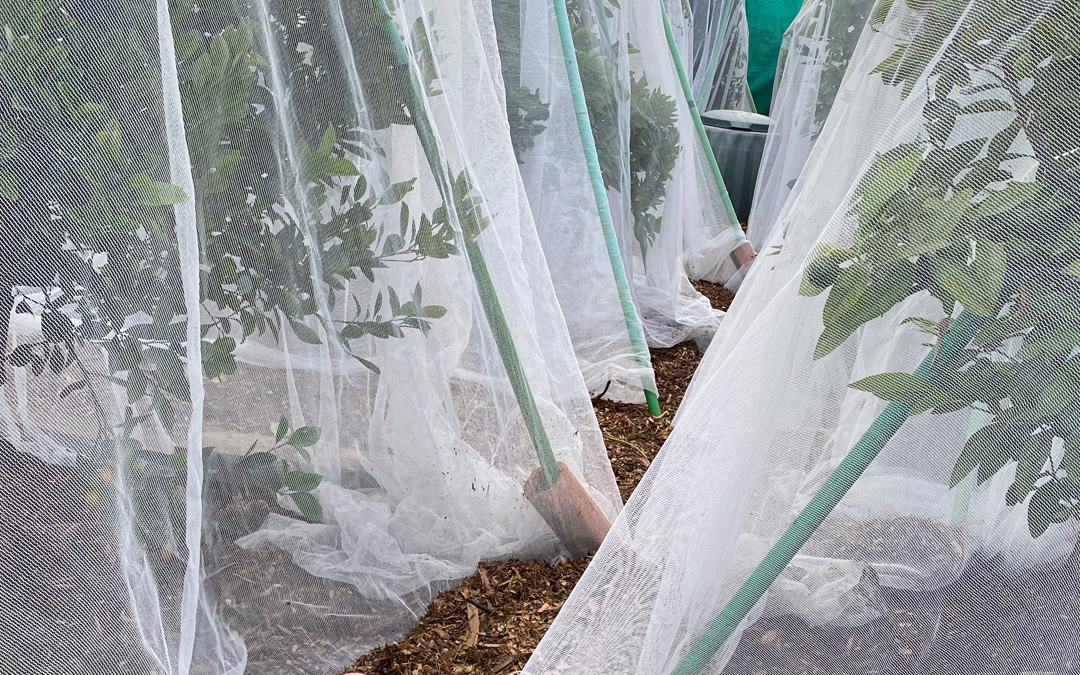 Sustainable Macleod has succeeded in having a summer season with NO infection of fruit and vegetables at the community garden! We are proud of this achievement and inspired to spread the word about how we did this throughout the Banyule community and beyond. Please pass this article on to every gardener you know!
In 2022 Banyule City Council gave Sustainable Macleod an environmental grant to deter QFF. That year we were reasonably successful. Only some of the stone fruit, some of the chillies and some of the capsicums were found to have larvae in them. We managed to produce nearly 900kg of QFF fruit and vegetable at the garden that was QFF free but our goal was to be 100% clean.
We learned from our mistakes in 2021/2022. Our major errors were:
Putting lures out too late
Not using Ceratraps in quantity
Not netting some capsicums and the chillies
Not securing the net to the ground for some capsicums
What we did right this season:
In late winter 2022 (August) we put out Wild May lures which attract the male QFF. We refilled the Wild May lures every time they needed it, inspecting them twice a week
In early spring 2022 (September) we put out Ceratraps in every second tree. These are protein traps that attract both male and female QFF and last the whole season without needing refilling
We did not use any homemade protein traps because we believe that they are effective for just a few days and therefore not worth it
We put out dry lures and found these the most effective primarily because we could see the QFF in the lure (in liquid it is hard to identify them as the liquid changes their colour). The replaceable wick which lasts about 4 months is about $8 making them quite inexpensive
We netted all our fruit trees in one of 2 ways – either by curtains of net right around the 2 orchards which have an existing structure that supports shade cloth roofing or by netting individual citrus trees using a slot-together frame over which net is draped and covering the bottom in heavy mulch to ensure no QFF can get in under the net. This was done as soon as flowers were pollinated and before fruit developed
We netted tomatoes, capsicum and chillies using net over the beds and securing it with bricks and timber at the base; and used net bags on each eggplant
We collected all fallen fruit twice weekly and microwaved it
We stripped all our remaining winter fruit at the end of winter to avoid early QFF using it to lay their eggs when there was little else around
It's our belief that the most effective method of defeating QFF is to use net that has no rips or tears and is well secured at the base because exclusion is a sure-safe solution. We will however continue to use Wild May lures, Ceratraps and dry lures in future seasons and dispose of any fallen fruit or fruit remaining on trees at the end of winter.
We are very grateful to Banyule City Council for funding our project.