Queensland Fruit Fly: a new angle on waste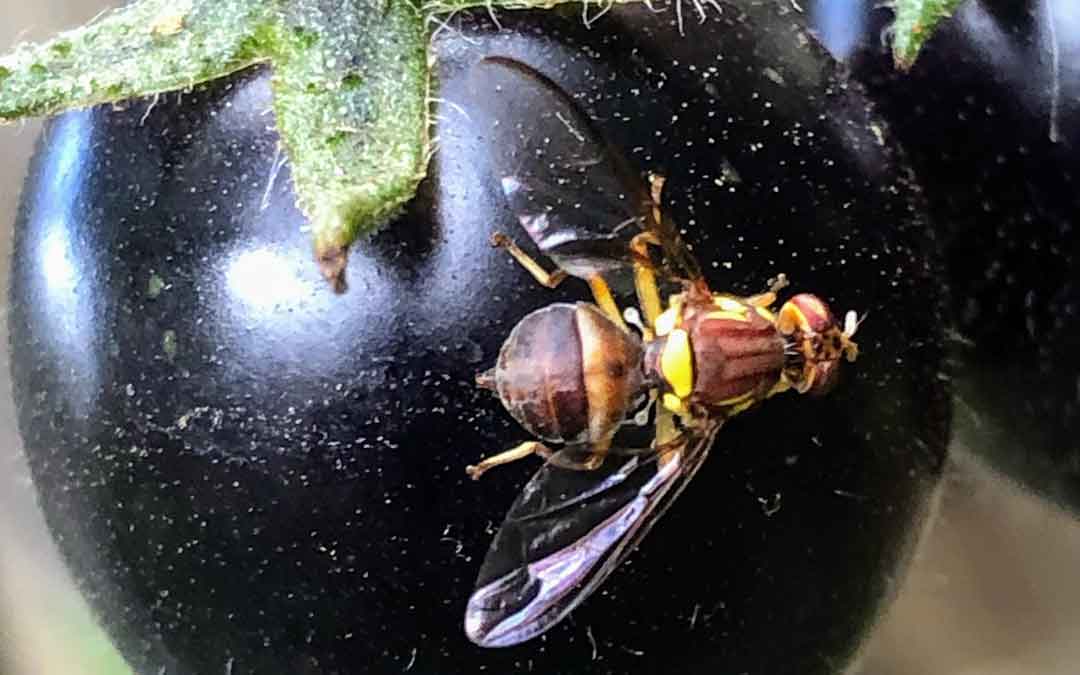 Many people in the gardening fraternity get very upset about wasting water. Often in an attempt to conserve, they will underwater their fruit and vegetables, resulting in undersized and poor quality produce. With the advent of Queensland Fruit Fly (QFF) damage, we face a slightly different but equally wasteful problem.
Imagine for a moment, that you raise your seed to seedlings or buy seedlings from a nursery, you plant them out in soil that you have improved from your compost or from purchased nutrients, you add mulch and you water well until the fruit and vegies reach maturity but you fail to protect them early enough or adequately from QFF. The result is that when you harvest your perfect looking, ripe, good sized fruit and vegetables, they all have to be thrown away (well, properly disposed of!). This is a waste of many things – your time, your money, nutrients in the soil, water, and into the bargain you will need to replace this produce for your table – doubling the amount of nutrients and water that the food you eat has used, and add in food miles as well.
Examples of waste happened twice at the community garden last year no doubt because we always need more people than we have to produce the 100s of kilos that we do, and some things fall by the wayside. In the first case, a net was draped over some tomatoes but not weighed down around the base and QFF got in under the net and what looked like perfect tomatoes were heavily infested QFF homes. In the second example some large, perfect Californian Wonder capsicums were harvested. They had not been netted at all and every pepper had to be destroyed. On the upside, fruit that had been netted or sprayed with kaolin clay was perfect.
My point here is that failing to make provision to prevent QFF infesting our fruit and vegies is more than a nuisance, it is an unrecognised waste of money and resources. QFF is late arriving this year, probably because the overwintering males were killed off by our very long, cold winter. However, about now there will be a second flush (they are already in Northern Victoria). A wise gardener will be putting out QFF male pheromone traps (Wild May) to monitor the presence of males, and protein traps such as Ceratraps, to kill both male and females as well as netting and/or spraying with kaolin clay (which is excellent for citrus trees, also preventing gall wasp).
You can order Wild May and lure traps from Sustainable Macleod at cost price.
We also have 6 packs of 2 Fruition traps left that are sticky traps that catch QFF and other flies and do not need to be refilled like the liquid traps. These are at cost price too.
Some Bunnings sell Ceratraps but it is cheaper to order in bulk online – share with friends to reduce the cost.
Bulleen Art and Garden sell kaolin clay and Ecolure, also a good product.
Written by Robin Gale-Baker