A glut of cumquats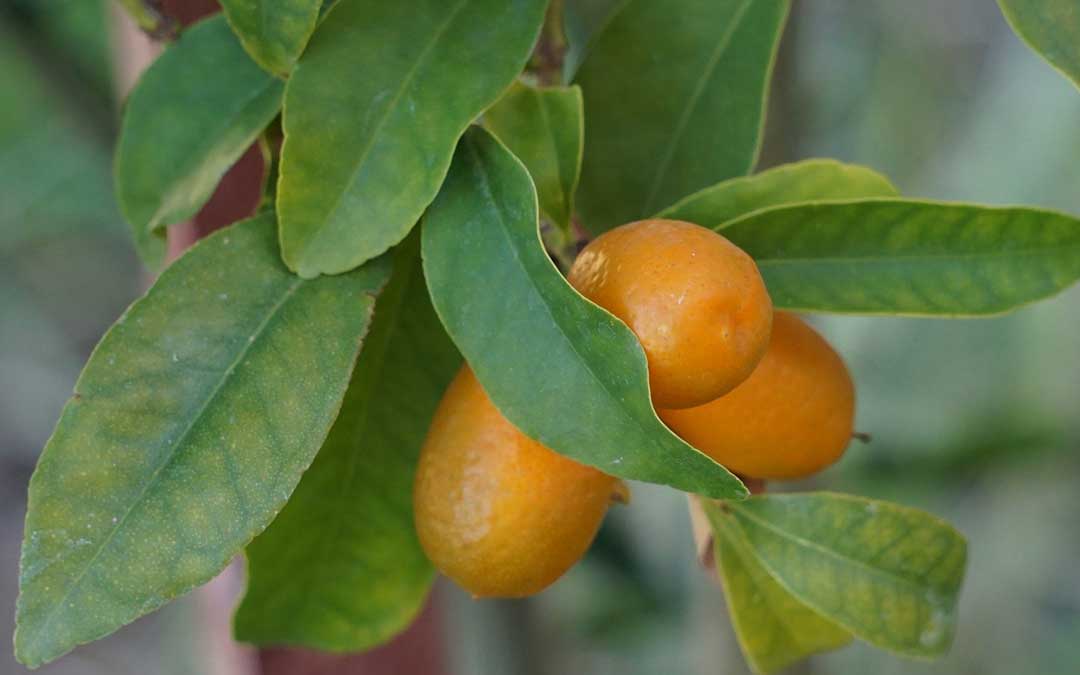 A Glut of Cumquats
Cumquats* resemble small oranges about the size of large olives. The trees are classified now as part of the Rutaceae family (Rue family) or Citrus sensu family which means 'in sense they are citrus'. They used to be in a family of their own called Fortunella. Cumquats originate in China.
Cumquat trees are small, hardy trees that do very well in cold climates and produce an abundance of small, golden orange fruit, white flowers and glossy dark green leaves. They grow well in the ground or in very large pots.
The skin of the fruit is sweet but the pulp is tart, making an interesting juxtaposition of flavour. They are often underrated as a fruit because of their tartness. As well as the round varieties (Marumi and Morgani), there is an oval variety called Nagami. All of them grow well in Macleod.
The community garden has two prolific cumquat trees. Cumquats can be eaten fresh, frozen whole or halved, pips removed, blended and then frozen.
Cultivate as for any citrus tree.
*Cumquats or Kumquats (alternative spellings but in Australian English spelled Cumquat)
What to do with cumquats – Members' recipes
Note that cumquat can be substituted for lemon or lime in most fish and meat recipes.
Cumquat jam from Gaylynn Pinniger (originally a Martha Gardner recipe from 1985)
600g fruit
750g sugar
1 cup of water
Blend fruit in blender
Put into a saucepan and boil for 10 minutes
Add sugar
Boil till it jells
Bottle into warm sterilised jars and cover with cellophane covers and elastic bands**
**To sterilize jars, wash in soapy water, rinse, drain, place on a tray in a cold oven, turn oven to 110ºC. When the oven reaches temperature (i.e. 110ºC) turn the oven off and leave the bottles for 10 minutes. Allow to cool a little before adding hot jam.
To apply cellophane covers which can be bought from supermarkets. Wipe with a damp cloth and place dampened side to the outside, and secure with a rubber band. This will stretch the cellophane which will become taut on drying.
Sparkling cumquat cocktail from Carol Wall
Squash a cumquat in the base of a glass
Add ice
Add soda water
Enjoy!
Cumquat Gin from Paul Gale-Baker
Buy a bottle of Aldi Vodka
Add 20 grams juniper berries and 10 grams coriander seed (now it's gin!)
Add the skin of 3 – 4 cumquats
Leave for a week if you can wait that long – otherwise do a daily test to check the flavour!
Combine gin and tonic water in a glass for a delicious drink
Cumquat, almond and coconut cake from Robin Gale-Baker (originally from Julie French)
250g cumquats minus pips. Whiz in a food processor but leave zesty.
3 eggs
150g caster sugar
1/2 teaspoon bicarb
2 tablespoons self raising flour (or gluten free self raising flour)
200g almond meal
100g shredded coconut***
Combine eggs and sugar
Add all other ingredients. Mix well.
Pour into oiled 18cm cake tin.
Smooth over the top with a spatula as the mixture does not spread in the oven and can come out lumpy otherwise.
Bake at 180ºC for 40 minutes or until firm to touch.
***Slivered almonds can be substituted for shredded coconut resulting in a crunchy cake.