Supporting the change to electric vehicles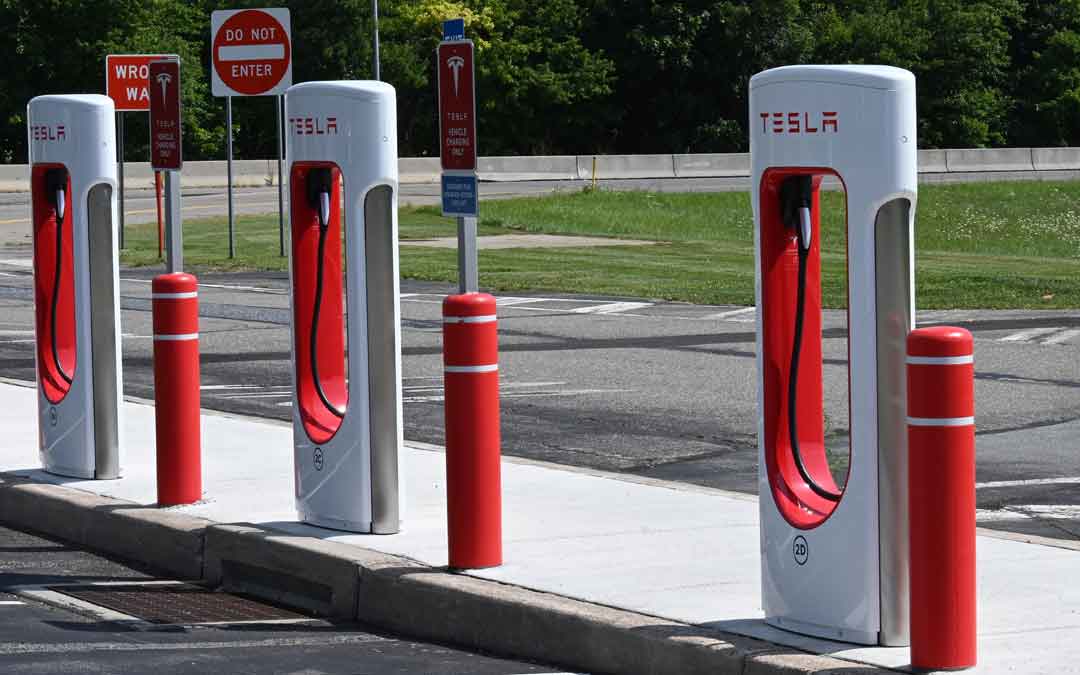 Replacing petrol or diesel vehicles with electric vehicles would lead to a significant drop in carbon emissions and local pollution. Australia-wide, transport was responsible for 18% of carbon emissions in 2020. Burning gasoline and diesel also produces a range of harmful by-products, affecting the local environment and community health.
Unfortunately the take-up of electric vehicles in Australia has been slow. EV charging – both the availability of chargers and the time required for charging – is one of the sticking points when people consider buying an EV. While price remains the primary hurdle for most people, EV prices will drop, leaving the question of charging to be answered.
A recent Age article (Halfway across the Nullabor, Mad Ted and a busted charger ran us off the road) highlights some of the challenges and frustrations of a lack of infrastructure when driving long distances.
For most people, the increased availability of charging infrastructure in urban areas will remove a major obstacle to EV purchase. For most people, charging at home is the best charging solution. If your house has a driveway, your EV can be charged from a standard domestic powerpoint, or through a faster home charger. If you have a significant rooftop solar array, this can also be cost-effective. But what about people who live in houses with no off-street parking and no easy way to connect their car to power? The increase in multi-dwelling developments highlights this issue.
Darebin Council has come up with an EV charging policy which specifies the inclusion of charging infrastructure in new housing developments. Broadly, for residential developments, a minimum of 20% of car parks will have chargers, with 75% of all parking spaces having provision for future chargers. Non-residential developments have a lower requirement (5% with chargers and 20% with future provision). Recognising the increasing acceptance of electric bikes, the policy also specifies charging points for these as well for both residential and non-residential developments.
Banyule City Council has actively supported EV charging with free charging points at Watermarc and Ivanhoe Library and has recently installed a free rapid electric vehicle charger at the Bellfield Community Hub.
These are worthwhile initiatives by Banyule City Council to encourage replacement of fossil-fuel cars with EVs. It is important to extend this commitment by requiring installation of charging infrastructure in new developments. With the rapid growth in multi-dwelling developments in Banyule, an EV (and electric bike) charging policy similar to Darebin's should be formulated urgently.
I have approached Banyule City Council to find out if they plan to introduce a policy regarding EV charging infrastructure on new developments. I will write a follow-up piece as soon as I have this information. I would welcome any input from members who would be interested in advocating for such a policy.
Mad Ted and a busted charger ran us off the road
Darebin Electric Vehicle Charging Policy
Electric vehicle charging legislation for developments in the UK
Written by Paul Gale-Baker