Switch and Save – check out the Sustainable Macleod Clean Energy Expo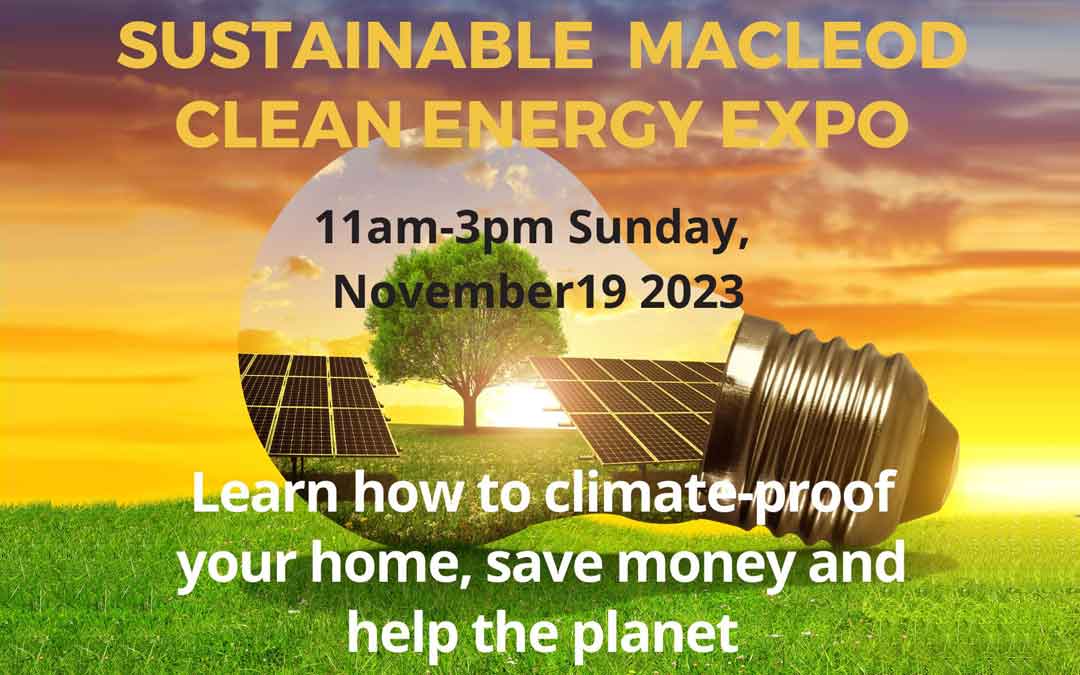 Sunday 19 November
11am – 3pm
Macleod College, Carwarp Street, Macleod
Book here
Most of us are willing to reduce our impact on climate change by reducing our home energy use. How to make our homes more energy-efficient, while not blowing our budget needs careful planning.
Changing from replacing inefficient appliances, getting off gas and installing solar panels requires a significant investment of money, not to mention the time involved in finding the best solutions. Adding an electric vehicle to the list can put a hole in anyone's budget. It is helpful to understand which changes to start with to maximise our energy-efficiency.
The Sustainable Macleod Clean Energy Expo is being organised to let people see the latest in clean energy technologies and to provide an opportunity to talk to reputable retailers and installers of these products, so you can make informed choices.
While most of us are familiar with insulation, solar panels and similar products, it is harder to keep track of advances in the technology. If we are going to invest in them, we need to know which are the most efficient and reliable.
We are hosting several products new to the Australian market.
A German-manufactured insulating coating, MIG Insulative Coating – can be applied to weatherboard and roofs like paint.
Last year we repainted our weatherboard house with this product (which by excluding moisture reduces the transfer of heat) and we are extremely happy with the result. It's a cooler home in summer and a warmer one in winter.
Solar roof tiles – which are also virtually unknown in Australia at present.
A good place to begin with improving household savings, is to reduce your dependance on fossil-fuel energy sources. Gas is becoming very expensive. Switching to a heat pump hot water system, warming and cooling our homes with reverse-cycle air conditioning, and switching from a gas stovetop to induction can create considerable savings. The Climate Council estimates an immediate saving of hundreds of dollars a year just by switching away from gas.
Electric vehicles (EVs) are another example of significant cost-saving. Banyule City Council, with its Climate Emergency policy is encouraging the switch to private EVs. A number of charging points set up by the Council, allow free charging, while supermarkets and shopping centres are gradually installing free chargers. Well-known expert, Bryce Gaton will be running a workshop at the Expo on EVs – 'Is now the time to make the switch?'. Bookings are essential for this workshop.
A solar energy array on a house rooftop, perhaps with battery backup, will make a sizeable dent in your energy bill. Electrifying house appliances and charging your EV or electric bike from rooftop solar will create substantial energy-independence and huge cost-savings over time.
Few of us will be able to make these changes in one go, so we need to establish a timeline for replacements. It makes sense to begin by making the low-cost, simple changes first. Low-cost draught-sealing of your house can add to comfort and reduce energy costs, as can adding insulation. Our recent experience in getting underfloor insulation installed has made a surprising improvement in indoor temperatures. The floorboards are now warm enough to walk on in bare feet in winter. We will have insulation experts present at the Expo to advise on all forms of insulation.
To assist in planning the switch, we will have a home energy assessment company present at the Expo too. Having a professional assessment of our home energy use is a great place to start on the journey to upgrade your home. Banyule City Council's Community Energy Officer will also be there to give advice on Council programs and initiatives.
I would encourage everyone to visit the Expo, see what is available, and talk to companies currently offering clean, cost-saving home solutions.
Written by Paul Gale-Baker