Tasty bushtucker treats around our streets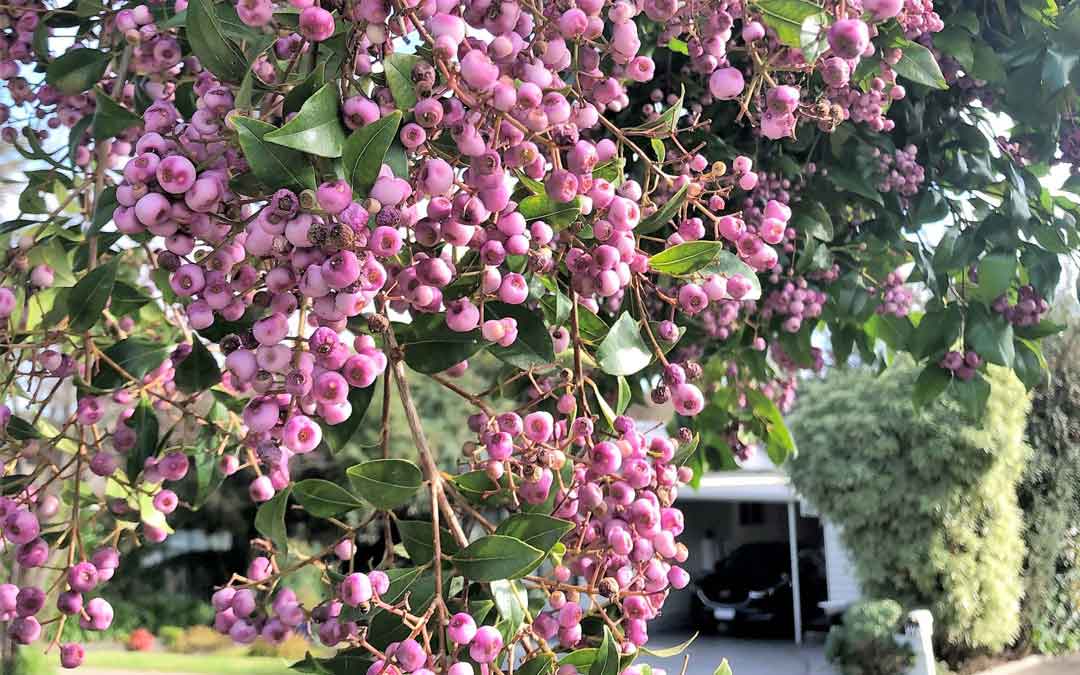 Walking around my Macleod neighbourhood the other day, I came across a street tree absolutely covered in fruit. While there are definitely lots of olive trees on our streets, that's not the tree I'm talking about. I'm talking about an Australian native lilly pilly tree – a fabulous bush tucker plant.
Lilly pillies are evergreen shrubs and trees, frequently grown as ornamentals as they can be hedged and are an attractive addition to a garden. There are many cultivars that have been bred these days including many grown specifically for their glossy green, bronze, red or copper foliage and pretty white or pink flowers. They are part of the Myrtaceae family, which includes guavas, eucalypts, feijoas, tea trees and bottlebrushes and clove trees.
While most lilly pillies are native to tropical or subtropical areas further north, there are some great edible varieties from other parts of Australia that will grow well in Melbourne.
The best lilly pillies for eating
There are around 60-70 species of Lilly Pilly in Australia, all with edible fruits. While they are all edible – they don't all taste good. Berries are usually about 1-2cm wide and are produced in clusters with most having a seed in the centre. Ranging in colour from white, mauve, pink and deep magenta, the berries are often described as having a clove-like scent. When fully ripe they have a tart sweetness, not unlike a fresh cranberry.
Lilly pillies are a well-known bushtucker plant and First Nations Australians often refer to them as medicine berries. This is no surprise given they are very high in vitamin C and E, magnesium and potassium and are sometimes called a superfood. Lilly pillies have been used for thousands of years by Australian First Nations people for their antibacterial and healing properties. They are becoming more widely recognised for their astringent properties and are making their way into anti-aging skin care products.
The fruits of the Creek Lilly Pilly (Syzgium australe) are very tasty. One widely available commercial cultivar is marketed as 'Lilly Pilly Big Red' and produces good fruit.
I think the fruits of the Riberry or Small Leafed Lilly Pilly (Szygium luehmannii) are the best-tasting lilly pilly I've tried. It produces a deep dark coloured fruit. Melbourne Bushfood in Fairfield, Edible Eden Design in Pascoe Vale and Bulleen Art and Garden all sell it. Many of them have been bred to be small trees that can be grown in pots and can still produce kilos of fruit each year.
When harvesting lilly pilly fruit it's worth giving them a rinse as little spiders love to hide inside their puckered ends. They keep fine in the fridge for a few weeks, and if you're cooking with them, you can pop them in the freezer. Be aware that like many other berries and fruit, frozen lilly pillies will have a different texture once defrosted, but this is not a problem for many recipes.
While some lilly pillies taste good fresh from the tree, even the tart ones can be used to make jams, cordials and sauces. When preparing lilly pillies you usually need to remove the seed at the centre and I've heard that squashing them makes them less tart. I don't know if that's really true, but cooking them certainly does. Other recipes using lilly pillies include drying them, baking with them, stewing them, making them into a sparkling alcoholic drink, eating them in smoothies, making chutney and pickling them to extend their shelf life. I noticed a lilly pilly gin the other day at the bottle shop so I might try making that soon.
So if you're looking for a plant that is beautiful and edible, consider a lilly pilly. If you do, make sure you speak to the nursery staff or at least read the label to ensure you are buying a cultivar that has been bred for fruit, as there are many cultivars of both Syzgium australe and Szygium luehmannii that have been bred for foliage and colour rather than their fruit.
Words and photos by Jen Willis.