Queensland Fruit Fly strategy #1 – start right now!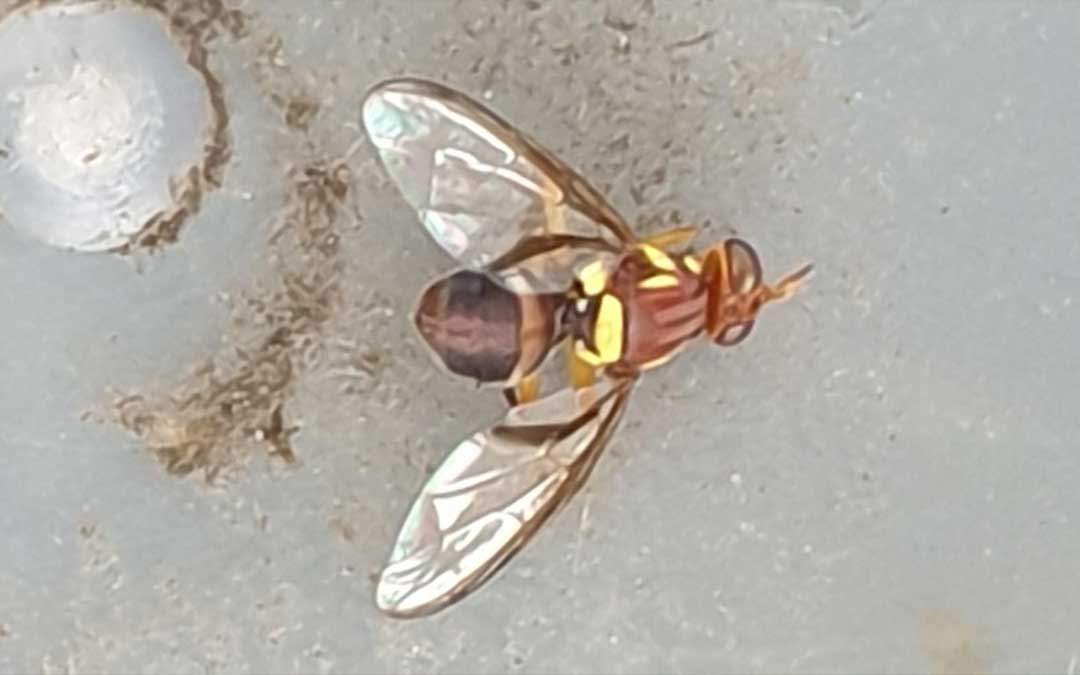 Sustainable Macleod is developing a simple and effective Queensland Fruit Fly Strategy for Banyule. We will be rolling it out in a series of blogs and seminars and collecting data to help keep track of results. Using the strategy at the Macleod Organic Community Garden, people can learn by observing or participating in the strategy.
Right now – yes, in June – is the time to start so please read our first blog below. Being prepared early is half the battle!
Queensland Fruit Fly Strategy Blog #1, Start right NOW!
Did you know that male fruit flies overwinter in Melbourne in warm microclimates in your garden? Reducing the number of males NOW gives you a head start in eradicating Queensland Fruit Fly from your fruit. Queensland Fruit Fly will hatch as late as April.
The males can survive high in the canopy of evergreen trees such as lemons or other evergreens until late August, these evergreens house warm microclimates within their canopies.
West facing trunks and branches absorb heat during the day and act as a thermal mass. Air inside the canopy will be much warmer than the air outside.
If you eradicate Queensland Fruit Flies in the canopy, where they congregate in groups of around 10, your early fruit won't be affected. In fact, you won't have a problem until January but by then you will know how to prevent it.
So, relocate your Protein taps or Pheromone lures (Ecolures) high up (around 2m), inside the canopy on the north or west side of your lemons trees and in any other evergreens which are close to a source of warmth, such as your house, chicken coop, hot water heater or compost heap. Putting up a number of these traps better protects you for the future.
Our recommendation is to use an Australian made trap, the Envirosafe Fly Trap. These bottles are made to catch flies but remove the bait and replace it with Ceratrap liquid (a protein bait for males and females) or Wild May (males only). These traps are sturdy, easy to use and yellow, which attracts Queensland Fruit Fly. Bunnings sell them for $9.99 and we will have bulk supplies available soon as well as the liquid to revitalise pheromone wicks (so keep your old lures but put them in your trees for now).
Instructions for homemade bottle traps and DIY protein baits will be provided as we proceed.
Please join us to control this emerging pest in our area.
Written by Robin Gale-Baker