Under Threat: A rare tree that's been hiding in plain sight – Studley Park Gum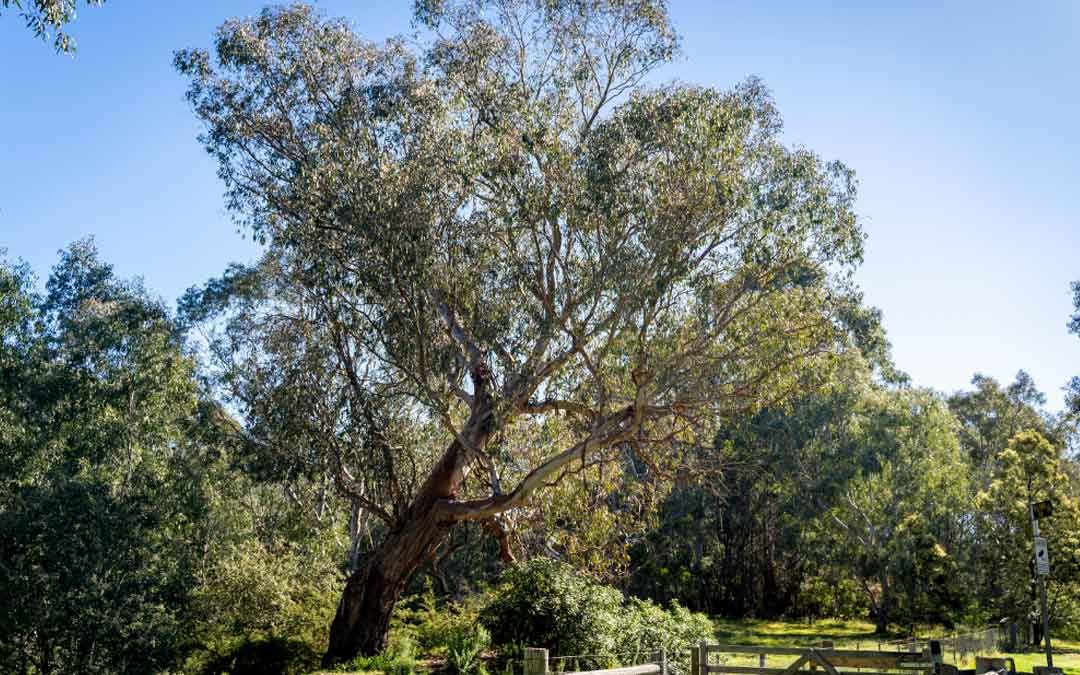 Image courtesy of Banyule City Council.
If you've ever walked through Cherry Street Reserve in Macleod you'll have seen one of the endangered unique trees we're lucky enough to have growing on our doorstep. You might not have realised though.
The Studley Park Gum (Eucalyptus × studleyensis) is a natural hybrid between River Red Gum (E. camaldulensis) and Swamp Gum (E. ovata). Unusually for a natural hybrid, it's fertile, so can reproduce.
The Studley Park Gum was originally named after the place it was first identified in Kew. While it has been identified in a few other places near Melbourne, the majority of Studley Park Gums grow along the lower Yarra River through Kew, Ivanhoe, Viewbank, Rosanna, Macleod, Yallambie and Watsonia.
One of the best stands of the species is in Cherry Tree Reserve. Darebin Council who manage the reserve have some signs around the reserve, but the endangered hybrid is notoriously hard to differentiate from River Red and Swamp Gums, even by experienced botanists.
Perhaps the best remaining stand of Studley Park Gums is inside the Simpson Barracks in Watsonia. Because the area isn't slashed, seeds dropped have grown into saplings. Young seedlings in other locations haven't had the same chance to survive due to mowing and park maintenance.
The North East Link Project (NELP) will dramatically impact the Simpson Barracks trees along Greensborough Road. As a tradeoff for the 52 mature trees being removed, the state government has committed to replace each tree with two new ones in new locations along the Plenty and Yarra Rivers. While this commitment is more than is required by legislation (the Studley Park Gum is not listed in the relevant federal or state legislation as it isn't a listed species), it's a poor outcome for this unique hybrid tree. The replacements will be one-year-old saplings, which will take hundreds of years to develop the hollows needed by many bird and wildlife species for breeding. You can read the Victorian Government's Studley Park Gum Management Framework for more details on the plan.
If you'd like to see some large remnant specimens, a couple that are easy to find remain at the Arthur Streeton Reserve in Yallambie. Other smaller specimens grow at Cherry Street Reserve and Gresswell Forest in Macleod and Aminya Reserve in Watsonia.
Also worth noting is the giant 300 year-old River Red Gum at the corner of Manningham and Bridge Roads in Bulleen in the driveway of the Caltex service station. The tree is very significant for many reasons and was named 2019 Victorian Tree of the Year by The National Trust of Australia. It too is looking like it might get chopped down to make way for the North East Link, despite significant community outrage. Retaining these rare hollow-bearing trees is vital for our ecosystems and the survival of wildlife.
If you'd like to help rewild our local area, you could help the Banyule Bushland Management crew and the local Friends of Salt Creek and Associated Parklands (FoSCAP) with the tree planting they are running in Rosanna Parklands on Sunday 1 August, National Tree Day.
Written by Jen Willis