Urgent jobs in the garden for March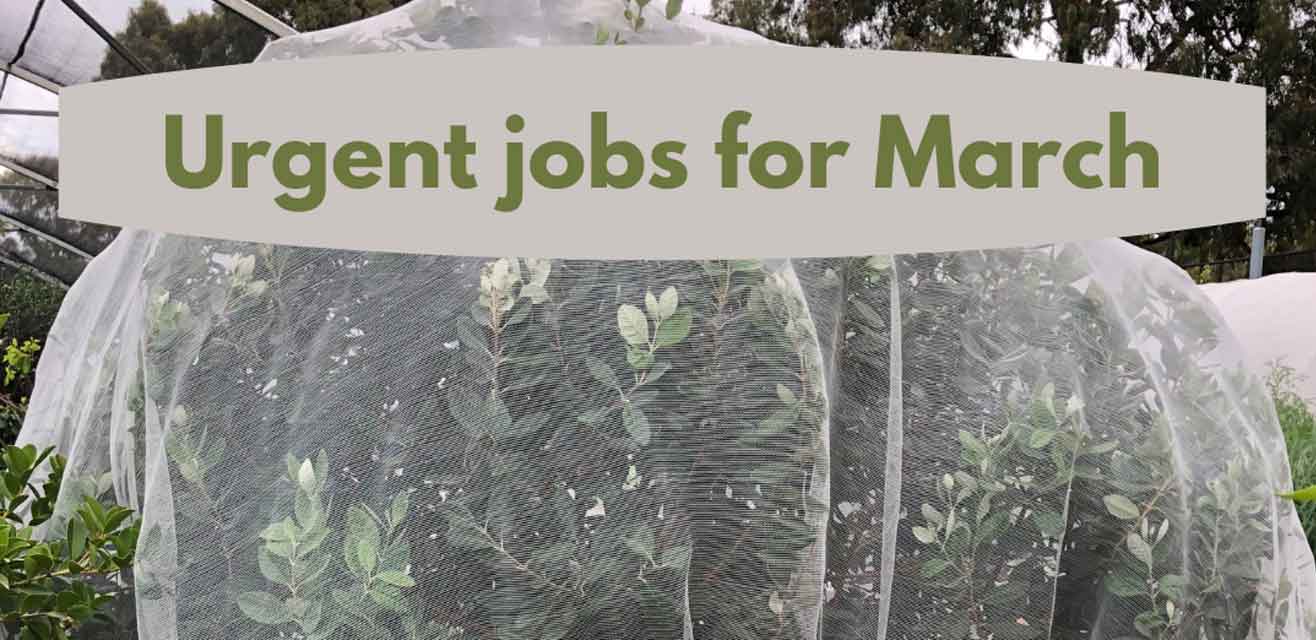 Urgent jobs in the garden for March
Save seeds from the garden.
Net fruit trees including citrus, guava, feijoa, pear, apple, quince, loquat, persimmon, grape and olive. Also net tomatoes, eggplants, capsicums and chillies. Use fine net, tying tightly at the base to prevent Queensland Fruit Fly entry and to protect from birds. Alternatively place net exclusion bags over whole plants such as capsicum and eggplant and weigh the hem down or bury it to exclude Queensland Fruit Fly entry.
Microwave or drown any fallen fruit or fruit infested with Queensland Fruit Fly.
Check citrus for scale and any sign of Queensland Fruit Fly. Lemons are particularly susceptible.
Water citrus trees once or twice a week especially in extreme heat as they are shallow rooted and need water near the surface.
Spray summer vegetables with seaweed solution fortnightly.
Fill wicking beds weekly but daily in extreme heat.
Plan a winter garden, dig over beds incorporating compost and other nutrients and water well even if there is nothing planted so that the soil becomes hydrated. (Avoid soil becoming hydrophobic through lack of water). Be ready to plant in April.
Make compost.
Written by Robin Gale-Baker