What to plant in November in Melbourne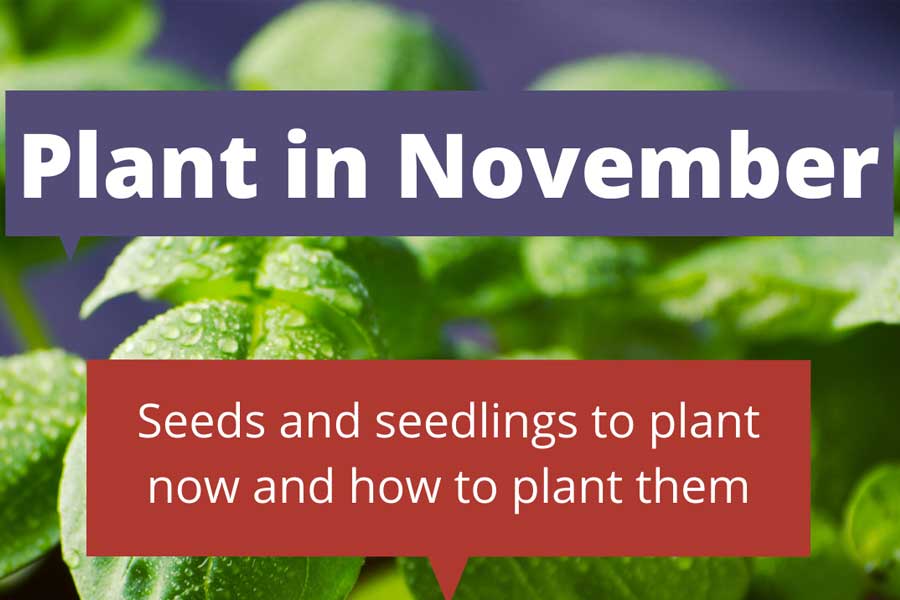 Seeds planted in October in punnets that have reached the 4-leaf stage can be pricked out and planted in potting mix in trays or pots. These can be planted in the garden late November.
Plant in punnets
Capsicum and chilli, cucumber, eggplant, endive, lettuce and all salad greens, melon, pumpkin, tomato, zucchini, and basil
Sow following seeds direct into the ground
Asian greens* – including bok choy, pak choy, and tatsoi, – bush and climbing beans, beetroot, carrot, corn, daikon, mustard greens, parsnip, peas, radish, rocket, and annual herbs of coriander, chervil and dill.
Plant Asian greens very close together (broadcast seed thickly rather than planting in rows) so plants will be touching. This prevents insects from 'getting to the leaves' and eating them
Thin root vegetables leaving the expected diameter of the vegetable, plus a bit, between each one
Sow beans and peas in partial shade as they do not like hot summer sun
Protect your seedlings from snails and slugs
Plant out seedlings
Basil, bush and climbing beans, capsicum and chilli, celery, chard, corn, cucumber, eggplant, globe artichoke, leeks, lettuce and salad greens, onions, silver beet, spinach, tomatoes and zucchini.
Stake capsicum, chilli, eggplant and tomato plants
Provide frames for climbing beans, peas and cucumbers
Protect your seedlings from snails and slugs
Tubers – Jerusalem artichoke, potato and sweet potato
Herbs – Plant all annual and biannual herb seed direct into the soil with the exception of the basils which must be planted in punnets. Plant all perennial herb seed either in punnets or direct into the soil. If you want more plants, divide roots of herbs such as horseradish, comfrey, lovage, mints, chives, sweet marjoram, French tarragon and the oreganos. Take cuttings of rosemary, lavender, sage, pineapple sage and strike with rooting hormone powder and raise in a perlite/vermiculite mixture.